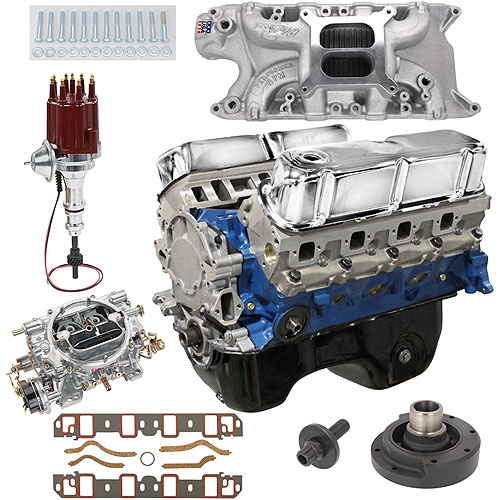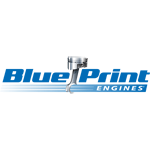 Blueprint Engines are a great choice for drivable and reliable high performance engines.

All rotating assemblies are balanced within 2 grams on a computerized balancer. Blueprint Engines are dyno tested and include dyno sheets.

Best of all they feature a 30 month/50,000 mile warranty.


arp4413
Blueprint Engines #138-BP3060CTK Ford 306ci 390HP / 370Torque

This engine is included in car package.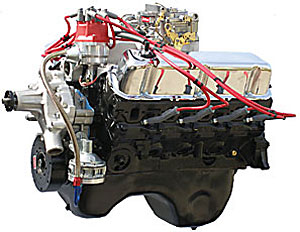 Product images may differ from actual product appearance
arp4899bbc
Blueprint Engines BP3472CTC Small Block Ford 347ci

330HP / 380Torque
Rotating Assembly:
Balanced rotating assembly (28.4oz external)
Melling high volume oil pump
Heavy duty double roller timing set

Cylinder Heads:
Modified Ford cast iron heads
Hardened retainers and 1.437'' springs
1.94'' swirl polished intake valves
1.60'' swirl polished exhaust valves
Hardened pushrods

Other Features:
Professional Products dual-plane satin aluminum intake
Chrome steel valve covers
New 5-quart rear sump oil pan
Brass freeze plugs
9.5:1 compression

Dress Model Adds:
Holley 600 cfm Electric Choke Vacuum Secondary Aluminum Street Carburetor - 510-0-80457SA
Edelbrock Standard Rotation water pump
Edelbrock fuel pump
MSD Distributor
MSD Coil
MSD spark plug wires
Professional Products balancer
Braided fuel line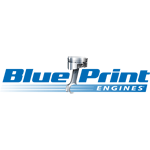 This engine is included in car package.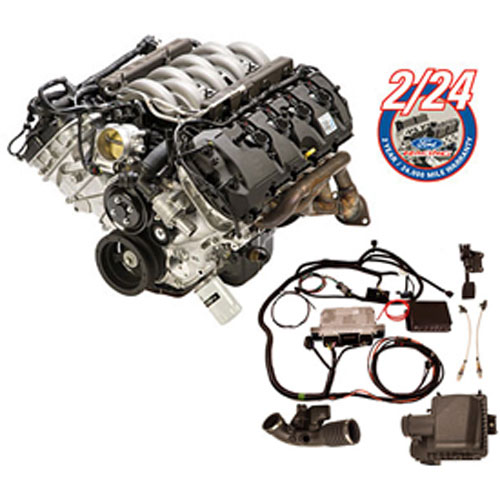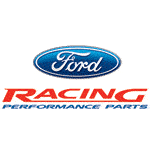 Features of Engine Control Pack M-6017-A504V
Take the complexity and mystery out of wiring a late model 5.0L 4V engine!
Designed to run the M-6007-M50 5.0L 4 Valve crate engine.
Includes PCM with Ford Racing calibration
Includes Electronic Throttle Control accelerator pedal eliminates throttle cable routing problems
Unique controls pack harness replaces stock body harness and is designed for streetrod installation
Features OBD-II diagnostic port to assist in vehicle calibration upload and problem diagnosis
Includes unique downsized power distribution module, Air box, inlet tube, MAF sensor with bolts, and EGO sensors
PCM with Ford Racing calibration requires return type fuel system, will not work with returnless fuel system
arp7836bbc
Ford Racing M-6007-M50K - Ford Racing Coyote Engine

Additional U$ 2,950.00 required
Ford Racing's all-aluminum 5.0L Mustang crate engine is a modern 5.0L 32-valve DOHC V-8 that uses advanced features like Twin Independent Variable Camshaft Timing (Ti-VCT) to deliver 420 horsepower @ 6500 rpm and 390 ft.-lb.+ of torque @ 4250 rpm (with premium fuel). The lightweight aluminum cylinder block features cross-bolted main bearing caps and thick main bearing bulkheads for bottom-end strength. Optimized oil drainback and windage control improve high-rpm performance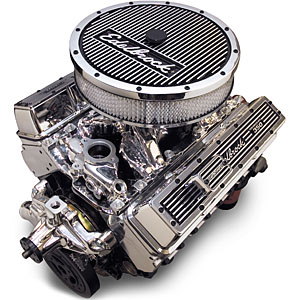 - 435 HP And 435 ft/lbs. Torque

- Edelbrock RPM Air-Gap Vortec Manifold

- Thunder Series AVS 800 cfm Carb

- New GM Short Block

- Aluminum Valve Covers w/Custom Badge

- Custom Assembled By Edelbrock Technicians

- High Quality Edelbrock Aluminum Heads

- 24 Month/Unlimited Mileage Warranty

arp8664bbc
Edelbrock 45914 - Edelbrock Performer RPM E-Tec 350CI / 435HP Engine

Additional U$ 3,750.00 required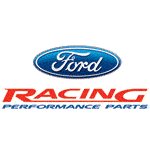 arp9583bbc
M6007Z427FFT Ford Racing 427 CI Z-Head

Additional U$ 5,950.00 required
Ford Racing brings high performance power to your next custom build. Perfect for street rods and kit cars, the 351 block-based Z-Head 427 crate engine has been engineered for drive-ability and durability, on road and off.

535 horsepower @ 5600 rpm

545 lb.ft. torque @ 4500 rpm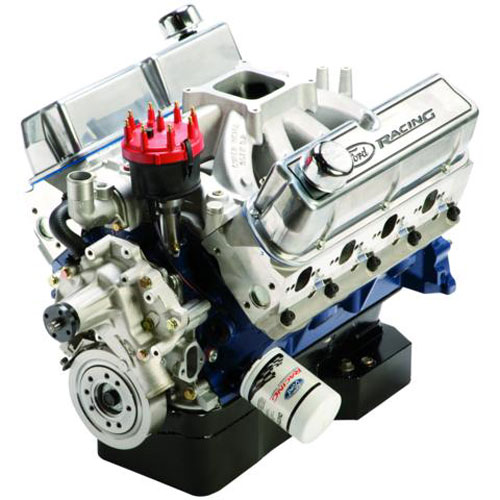 arp10919bbs
M-6007-S374T
Ford Racing 374ci Engine 490HP / 450Lb Torque
Additional U$ 6,950.00 required
374 cubic inches 4.125" bore - 3.500" stroke
9.2 deck BOSS 351 block with 4-bolt mains
490 HP @ 6,200 / 450 lb.ft. torque @ 5,100 w/ MSD Atomic Fuel Injection System
10.5:1 compression ratio
Forged steel Eagle crank, Eagle steel I-beam connecting rods
Mahle forged pistons
M-6049-Z304DA "Z" Aluminum cylinder heads w/ 2.02" intake and 1.60" stainless steel valves
Edelbrock Super Victor Intake manifold
Hydraulic roller tappet camshaft, .526" lift intake and exhaust, 226 degree intake duration @ .050" and 226 degree exhaust duration at .050"
1.65:1 Roller Rocker Arms
M-6268-B302 double roller timing chain
7 quart steel oil pan - rear sump
Edelbrock water pump
SFI approved harmonic balancer
MSD Billet distributor
Factory sealed for competition
Engine is internally balanced, "0" balance flywheel required
Flywheel is not included INSTALLATION NOTES: See engine installation and tuning tips on page 40. Some or all of the following items may need to be changed from your original engine or modified for proper installation:
This engine has a rear sump performance oil pan and pickup, regular rotation timing cover and regular rotation water pump, and non-EFI valve covers. Depending on your application, a different timing cover, water pump, performance oil pan and pickup may be required. See installation notes
Fuel pump eccentric M-6287-B302 installed, allows use of mechanical fuel pump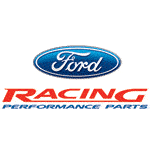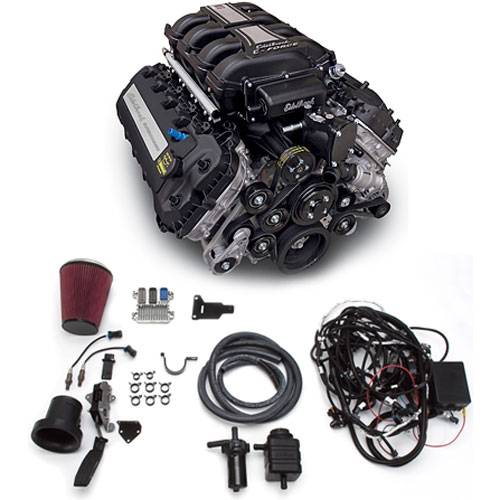 That's right you are seeing correctly Edelbrock, a leader in aftermarket performance for 75 years, is now offering a complete supercharged Coyote engine with 700 horsepower and 606 ft/lbs of torque for your next blue oval powered project!

The starting point for this crate engine build is a brand new Ford aluminum block filled with high performance parts including Mahle forged aluminum pistons, Manley H-beam connecting rods and a forged and balanced crankshaft. The short block assembly comes in at a 9.5:1 compression ratio allowing reliable and safe supercharged operation on 91 octane pump gas.

The stock Ford four valve aluminum cylinder heads flow easily thanks to the Edelbrock E-Force Supercharger kit that features an Eaton TVS 2300 cc/rev rotor assembly that provides factory reliability,
quiet operation and most important of all unparalleled efficiency to produce jaw dropping horsepower!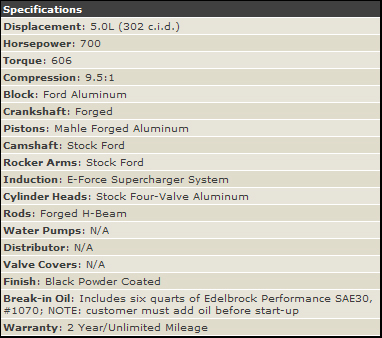 Edelbrock 46770 Supercharged 5.0L Coyote Crate Engines arp21635bbs
700HP/606TQ
Additional U$ 17,650.00 required